What we can do for you
Our Services
Explore our in-person, virtual and package options for all clients.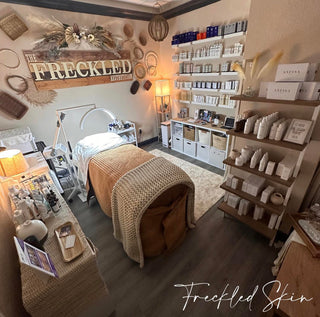 Let's Work Together!
Freckled Skin Studio is here for you in-person and virtually.
The Freckled Skin Studio is a is private skincare oasis located in Rockwall, Tx. Owned and operated by Haley Smith-Torres, better known as The Freckled Aesthetician on social media. Haley's back ground allows her to specialize in advanced skincare treatments.
At The Freckled Skin Studio, the focus is on giving each client a customized, corrective, healing and results driven experience. The Freckled Skin Studio offers a wide range of in-clinic and virtual services. The focus here is always on providing a customized corrective approach and relaxing experience for all clients.
Corrective, results-driven skincare that is backed by science and years of professional experience
In-depth consultation process and skin analysis  to ensure you receive the best treatments
Professional skin care available to ensure you have the tools to obtain optimal results
First Time Clients
Mandatory for New Clients
Add-on Services
Microdermabrasion
Minimally invasive exfoliation procedure to reveal a renewed skin tone and texture. Target hyperpigmentation, scarring, fine lines and wrinkles. Must be booked with a facial treatment. Microdermabrasion is not available by itself.
Hydro-Jelly Mask
Customized jellymask designed to effectively lock moisture and vital nutrients into the skin. Must be booked with a facial treatment. Hydrojelly masks are not available by themselves.
Dermaplaning
Advanced form of exfoliation that removes hair and lightly exfoliates to leave the skin smooth and glowing. Must be booked with a facial treatment. Dermaplaining is not available by itself.
single & bundle Service options
Our clients rave about our package offers. The more you buy, the more you save. Please be advised that packages are for established clients only and a consultation will be a must before moving forward.